Hot summer sun. Ice cold beer. Breeze off the lake.
Is there anything more Duluthy and summery than All Pints North weekend?!
The All Pints North Summer Brew Fest is an afternoon celebrating craft beer brewed in Minnesota by breweries and brew pubs in the Minnesota Craft Brewers Guild.
In addition to SO. MUCH. GOOD. BEER. there will also be local food vendors, fun activities, live music, beer-centric education sessions and more!
Where's DLL?
Duluth Loves Local will be setup with our friends Duluth Screen Printing Co. and Duluth Coffee Company near the top of Bayfront toward the entrance. Stop by for free stickers and temporary tattoos. Buy a t-shirt (LIVE screen printed while you wait) or up your caffeine content (cold Nitro coffee on tap). Drink Local, It's Superior!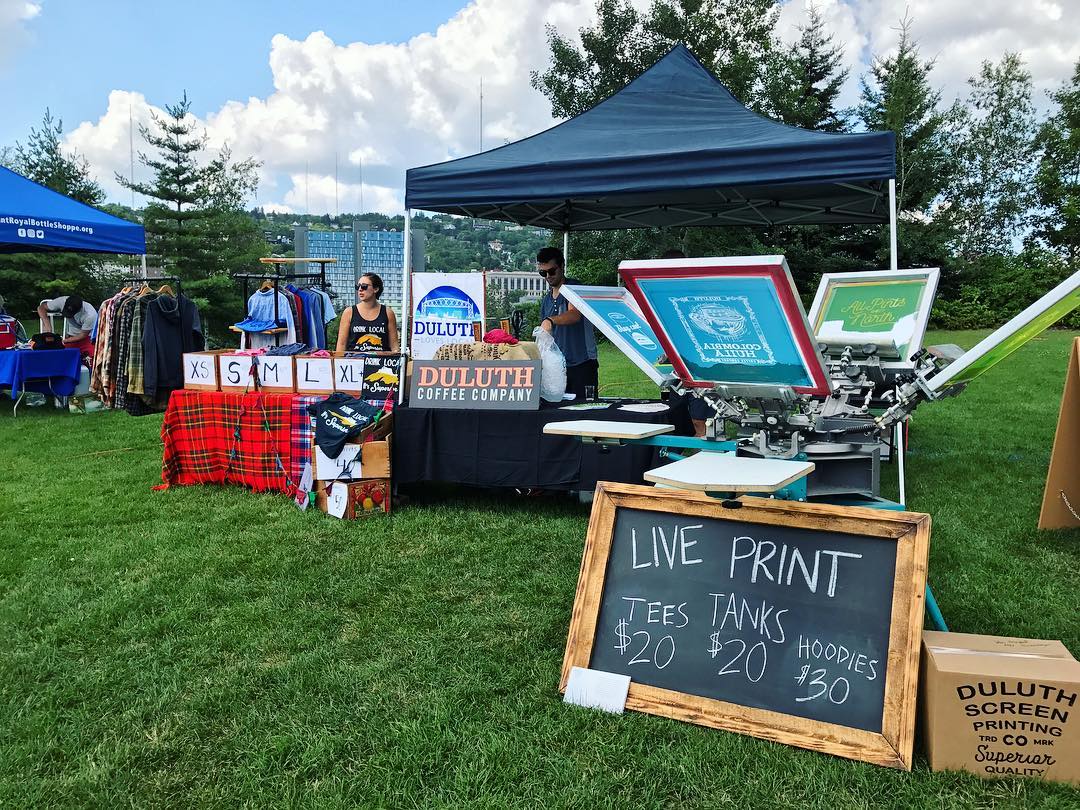 Here's our roundup of all the goings-on leading up to and after the All Pints North Festival on Saturday!
---
Where To Pre-Game
THURSDAY, JULY 26
All Pints North Pre-Party! *FREE ADMISSION*
Thursday and Friday 6pm until 8pm 7 W Superior St
7 West Taphouse is throwing a two-day Pre-All-Pints-Bash! On Thursday, Castle Danger Brewery makes a road trip to Duluth with some of their best beers, plus several summer favorites from Lift Bridge Brewery. Prizes! And beer reps on site to talk beer.
All Pints North Kick-off BBQ & Brew-Ha-Ha *FREE ADMISSION*
Thursday 7pm until midnight 208 E 1st St
Red Herring Lounge presents an early party to get ready for All Pints North! Featuring craft brews from Fair State Brewing Cooperative and Modist Brewing Company and serving fresh smoked BBQ. Music with DJ Shaman.
FRIDAY JULY 27
OFFICIAL PRE PARTY
3rd Annual All Pints Eve Pre-Party at Sir Ben's *FREE ADMISSION*
Friday 6pm until 10pm 805 E Superior St
The official pre party kicks off at Sir Ben's Tavern on the Lake on Friday, from 6pm until 10pm. Featuring specialty beers from 16 breweries plus awesome food from The Rambler food truck, kombucha by Duluth Kombucha, coffee from Duluth Coffee Company, and live music all night. The Sir Ben's parking lot is closed for outdoor activities, so make sure to take advantage of FREE parking at the St Luke's parking lot just above (north) of Sir Ben's.
All Pints North Brewer's Soiree *FREE ADMISSION*
Friday 7:30pm until 1am 132 E Superior St
The Rathskeller is hosting brewers from around the state for an all night pre-party! Open to the public featuring 13 tap lines, sushi hors d'oeuvres. Pop upstairs to Old City Hall for $10 flat bread pizzas and local cans of Duluth and Superior's favorites.
All Pints North Pre-Party! *FREE ADMISSION*
Friday 6pm until 8pm 7 W Superior St
7 West Taphouse is throwing a two-day Pre-All-Pints-Bash! Showcasing six different beers from Bent Paddle Brewing and Beaver Island. Prizes! And beer reps on site to talk beer.
All Pints North Pre-Party with Chris Hawkey & Whiskey Trail
Friday 5:30pm until 11pm 800 W Railroad St
Silos Restaurant at Pier B hotel host their second annual Pre-Party with live music by Chris Hawkey. Tickets are $25 and reduced to $20 for hotel guests.
SATURDAY JULY 28
All Pints North Breakfast Pop-Up *FREE ADMISSION*
Saturday 10am until 2pm. 325 S Lake Ave
Start festival day off right with breakfast sandwiches and beer from Great Harvest Bread Co at Hoops Brewing.
Fair State Brewing Tap Takeover *FREE ADMISSION*
Saturday 11am until 3pm. 105 E Superior St
A Pre-All Pints North party in the Duluth Coffee Company Roastery to celebrate Fair State Brewing. We will feature some of our favorites the Pils and Hefeweizen, a limited collaborative coffee infused Vienna Lager, special triple berry Roselle and their collaboration with Askov Finlayson, Keep The North Cold. Say hello to the folks that make it happen and enjoy a great beverage with some mini pizza bagels from Zenith Bread Project.
---
Where To After Party
Beach Bash *FREE ADMISSION*
Saturday 3pm until 11pm. 200 Lake Pl Dr
Endion Station Public House partners with Able Seedhouse & Brewery and Continental Ski & Bike to offer the best after party in canal. Live music, raffle, food and drink specials plus free swag. Guest taps and cans from Able Seedhouse & Brewery in addition to the normal tap line-up. The party doesn't start until 3pm but stop by in the morning before 11 to grab breakfast pastries from Duluth's Best Bread.
All Pints North After Party *FREE ADMISSION*
Saturday 3pm until 11pm. 109 W Superior St
Dubh Linn Brew Pub hosts an All Pints North after party with Pug from Hayes' Public House and his band The Ditchwood Goats. Pouring a special Cask of Imperial Milk Stout with Cold Press Irish Cream infused coffee.
All Pints North After Party featuring The4onthefloor
Saturday 7pm until 11pm. 208 E 1st St
Red Herring Lounge hosts an All Pints North After Party sponsored by The Current and Bauhaus Brew Labs. $5 Bauhaus pints all night, and the first 50 people in the door get a free beer! Kickoff at 7pm, music at 8pm. Tickets are $10.
All Pints North After Party with Nooky Jones
Saturday 9pm until midnight. 120 E Superior St
Blacklist Artisan Ales hosts an after party with live music by Nooky Jones. $5 cover.
Lake Ave. Pop-Up Hot Dog and Brat Bar *FREE ADMISSION*
Saturday 5pm until 9pm. 325 S Lake Ave
Lake Avenue Restaurant and Bar will be in the Hoops Brewing Beer Hall serving up their Hot Dog & Brat Bar this Saturday after All Pints North 2018.
---
Where To Cure That Hangover
Breakfast choices abound in Duluth. Here are a few of our favorite places to grab brunch (or a little hair of the dog):
At Sara's Table – Farm to table restaurant. We pay attention to where and who our food comes from and how it is handled. We are interested in the health and welfare of individual animals and in the environment as a whole. Our cooking style is focused on quality rather than output.
Sunday from 7:30am 1902 E 8th St
Beaner's Central – All-ages Concert Coffeehouse. Featuring local, national, and international touring artists. Full espresso bar, organic food and adult beverages.
Sunday from 8am 324 N Central Ave
Duluth Grill – Great locally-sourced fine family dining. Full menu all day. Gluten ingredient free, flexitarian, homemade comfort food, desserts, espresso and more!
Sunday from 7am I-35 & 27th Ave W
Lake Ave Restaurant & Bar – Restaurant focusing more than ever on a locally sourced menu and on Midwestern spirits. As Canal Park continues to develop and grow, Lake Avenue plans to be a friendly, dynamic dining destination for many years to come.
Sunday from 10am DeWitt-Seitz Marketplace, 394 S Lake Ave
Uncle Loui's Cafe – Homestyle American breakfast fare like pancakes, omelets and burgers. Friendly staff, large portions, local weekend morning favorite for a reason.
Sunday from 7am 520 E 4th St
Zeitgeist Arts Cafe – Fresh American cuisine, classic comfort foods with a contemporary touch, local beer, extensive wine and whiskey menus, handcrafted cocktails, and the best fries in town.
Sunday from 10am 222 E Superior St
---
More Fun To Be Had On APN Weekend
Bent Paddle Black Whiskey Release *FREE ADMISSION*
Friday 2pm until 11pm, food from 6pm, music at 7pm 525 S Lake Ave
Vikre Distillery launches their newest whiskey, a collaboration with Bent Paddle Brewing: the Black Malt Whiskey. Pop up food by Northern Waters Smokehaus, live music by Emily Haavik & the 35s.
Cribbage Chaos! *FREE ADMISSION*
Sunday 3pm until 6pm. 2711 W Superior St
Lake Superior Brewing hosts cribbage regularly every weekend, no board throwing allowed 😉
The Current Goes To Duluth *FREE ADMISSION*
Friday 2pm at Bent Paddle, 7pm at Red Herring Lounge 1832 W Michigan St
Radio hosts and staff from The Current travel to Duluth for two days of broadcast fun. Spend Friday afternoon at Bent Paddle Brewing's newly relocated taproom for a live broadcast hosted by Jade and Duluth Local Show host Mike Novitzki. Meet us at The Red Herring after the broadcast for a free showcase of Minnesota music.
Duluth Made Pop-Up *FREE ADMISSION*
Friday 5pm until 8pm 106 E Superior St
Friday night pop-up market at Hucklebeary, Duluth's newest cutest paper goods shop. Live music and local vendors.
First Pour Fridays: Dangerous Man Collab Release *FREE ADMISSION*
Friday at 5pm (brewer talk and toast) live music from 8pm. 1617 N 3rd St, Superior, WI
Dangerous Man and Earth Rider have teamed up to create a series of beers called the Crisp High Five! The first beer was made at Dangerous Man in Minneapolis. The second Earth Rider edition is a kettle soured IPA with fresh ginger and Galaxy hops. Both beers will be on tap at #AllPintsNorth.
Yoga On the Lake
Saturday 8am until 9am 200 Lake Pl Dr
Join Mariah with Evolve Duluth on Saturday, July 28, for an outdoor vinyasa flow class outside of Endion Station near the shores of Lake Superior. All levels are welcome. Enjoy Duluth's Best Bread European style pastry at Endion Station after class. All participants will receive a discount on any smoothies or drinks! Registration required.
P.S. All dates/times/locations/cover charges/ticket availability subject to change. Please check with the venue or business if you have any questions!
P.P.S. Please drink responsibly and arrange for safe transportation to/from any of the events and locations above.