Duluth's landmark Aerial Lift Bridge can be seen on postcards and emblazoned on sweatshirts, business logos and city tourism. It is easily one of the city's most recognizable places, connecting Duluth's Canal Park at Lake Avenue to a seven-mile peninsula that locals have labeled Park Point (technically an island and officially, Minnesota Point).
The original Aerial Lift Bridge was completed in 1905 after several false starts, but that bridge was much different than the current design seen in Canal Park in Duluth.
The bridge's original design featured a large aerial gondola that could transport up to 350 people and their vehicles across the canal in just one minute. The gondola was in service until 1929, when construction began on the bridge remodel, which incorporated the lifting platform seen today.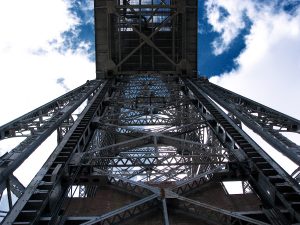 The Duluth Aerial Lift Bridge can raise the lifting platform to the top in three minutes, and does so about 30 times each day during the peak of the Great Lakes shipping season.
Grandma's Restaurant offers traditional American fare and some Northern specialty dishes, and is situated in Canal Park with deck dining overlooking the Lift Bridge.
South Pier Inn has unrivaled bridge and lake views from its position on the Park Point side of the bridge, on the waterfront of Lake Superior Bay.