We have been working on a secret project and we are ready to show you the first finished product.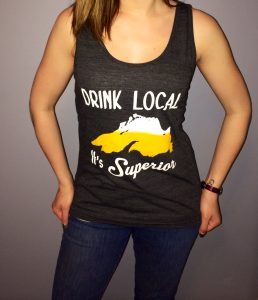 Duluth Loves Local will be partnering with local artists and local screen printing companies to bring you the best Duluth and Northland inspired shirts you've ever seen!
We love our first design and we hope you do too!  If you love Duluth, beer and Lake Superior, then our Drink Local It's Superior shirt is for you! Now available for presale, we'll begin shipping them out on May 27 – just in time for the warm Duluth weather!
Our tees and tanks are printed in Duluth and made in America. The fabric is American Apparel brand, super-soft tri-blend material.
We will be releasing more great designs in the future!